Lenses individually tailored to lifestyle
Our LifeForm progressive addition lens design can be viewed as a set of 14 different designs which target different usage priorities (including balanced options, for general use), while still providing full progressive functionality. The ideal lens can be selected in seconds using a simple 3-question survey which is summarized in the table below (further detail after the table).
Alternatively, a practitioner who wishes to limit offerings a small set of options can use the table to select those options.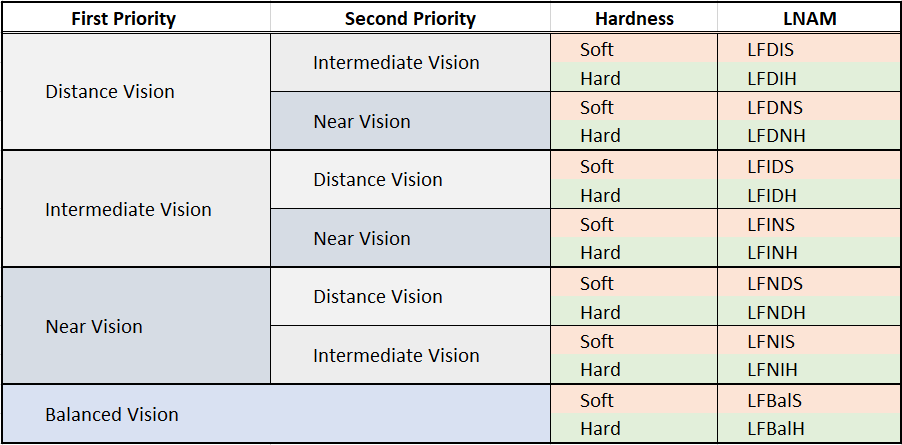 Preferences here boil down to having a larger region of clear viewing in the corresponding region of the lens (see Progressive Addition Lens Anatomy):
Distance vision – preference for outside use, such as driving, sports, etc.
Intermediate vision – preference for viewing in the channel, for better vision at each point across the entire range of viewing distances.
Near vision – preference for reading and close viewing.
Balanced – the best all-around design.
After the first priority is selected, a second priority can be chosen, for which of the remaining viewing zones should be emphasized.
Finally the LifeForm design has hard and soft options for every lifestyle option:
Hard designs – for experienced progressive wearers, those who adapt easily, and those who are otherwise not concerned not swim.
Soft designs – for beginning progressive wearers or those who have difficulty adapting. Adaptation is greatly improved at a cost of reduced viewing zone sizes.
Currently available in 18mm fitting height, all materials and physically-possible powers, with more frame options to come (and more design variations available for those who want it).
Please contact us at info@formulens.com for more info or to try it out.
LifeForm Progressive Design